The Master Plan
The primary section of KCE provides facilities for 120 students, a monastic Sangha, and guest teachers from all over the world.
The grounds of this section extend over four hectares and offer enough space for buildings, sport grounds, farming and natural terrain.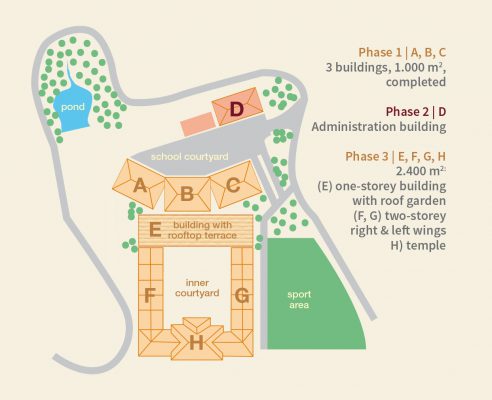 A Temple forms the Heart of the Centre
Following the example of a classical monastery, the central temple is linked with the two-storey right and left wings, and thereby allows a circuit around the inner courtyard. The rooftop of the one-storey building (E) forms a large terrace and provides enough space for outdoor events.
The architectural design of this building complex combines a harmonious blend of Tibetan and modern styles of building.
Building phase 1 has been completed with three buildings (A, B, C). The first houses provide enough space for the accommodation of the school administration, teacher, volunteers and students as well as for provisional use of classrooms, library, office, kitchen.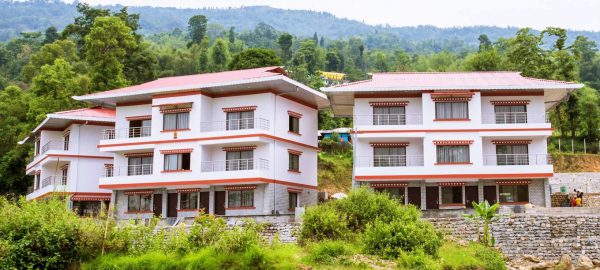 Building phase 2: a 2-storey administration building (D) housing a large kitchen, dining halls, offices, and a small medical ward is nearly complete.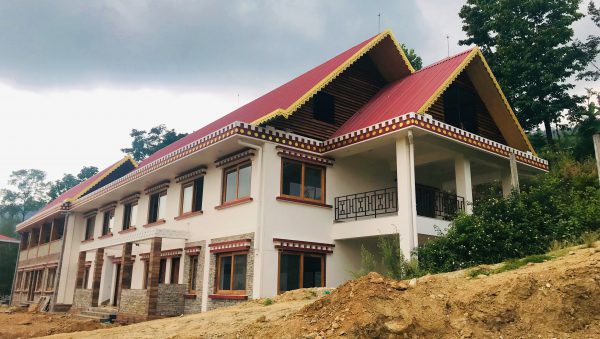 Building phase 3 
began in October 2018
The final and largest stage of construction comprises a rectangular-shaped building (E, F, G), with a temple (H) surrounding a large central courtyard.
The 3-storey temple building will finally house the classrooms, labs, and a library containing Buddhist as well as modern literature.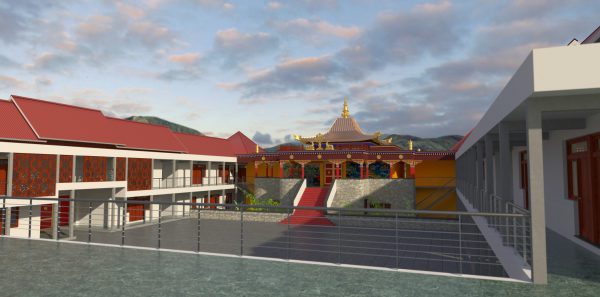 The main temple hall on the top floor will provide space for 200 people, decorated with a Buddha statue and a shrine, containing a complete set of the most sacred texts of Buddhism the Kangyur and Tengyur, the walls of the hall will be adorned by Kagyu tradition painting.
The temple will be used for the daily pujas where the students take part as well as for special ceremonies.